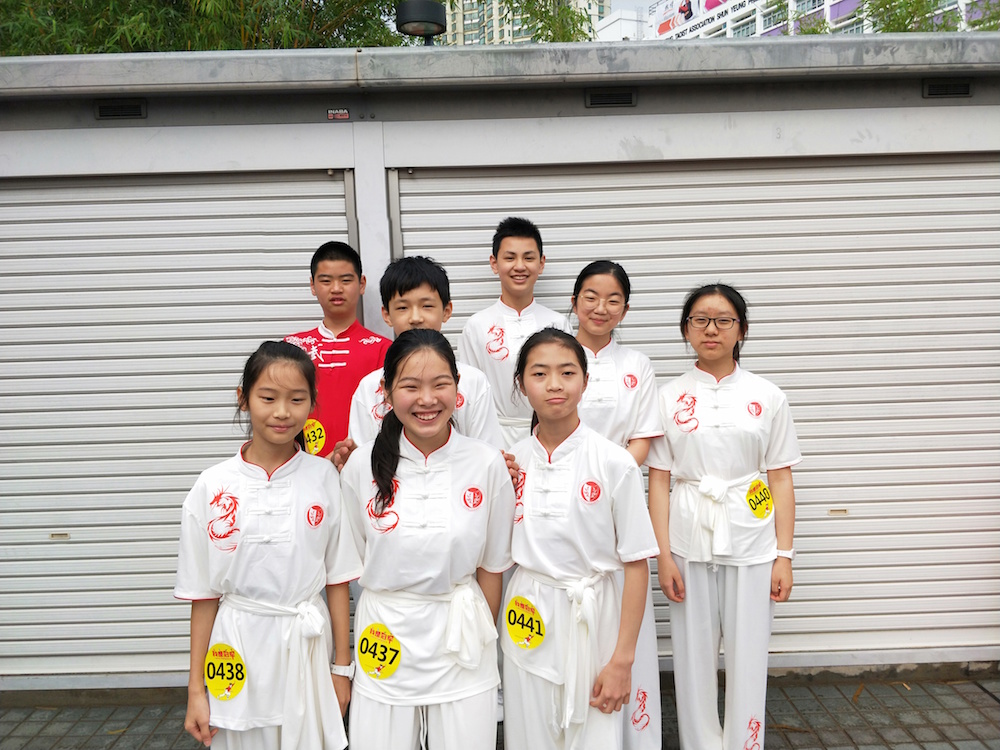 2019年4月11日-13日,应第十七届香港国际武术节邀请,华师双语武术队共派出10名运动员赴香港马鞍山体育馆参加此次国际武术大赛。本次国际武术节吸引了来自国内外共253支代表队共计四千余人参加比赛。
On April 11, 2019 to April 13, at the invitation of the 17th session of the Hong Kong International Martial Arts Festival, ECNUAS Martial Arts team sent 10 athletes to take part in the Hong Kong International Martial Arts Competition. The International Martial Arts Festival attracted more than 4,000 participants from 253 teams at home and abroad.
赴港前,我校武术队队员经过了为期四个月的专项训练。每天下午4点半到5点半,同学们在训练场上挥汗如雨,一遍又一遍不厌其烦地重复着一样的动作。为了能够登上冠军的讲台,同学们甚至将一个动作操练十遍百遍,只为精益求精。
Before going to Hong Kong, the members of our school's martial arts team went through a four-month special training. Every afternoon from 4:30 to 5:30, the students sweat in the training field, to repeat the same action over and over again. In order to be able to ascend the champion's platform, they even will drill a movement ten times or hundred times.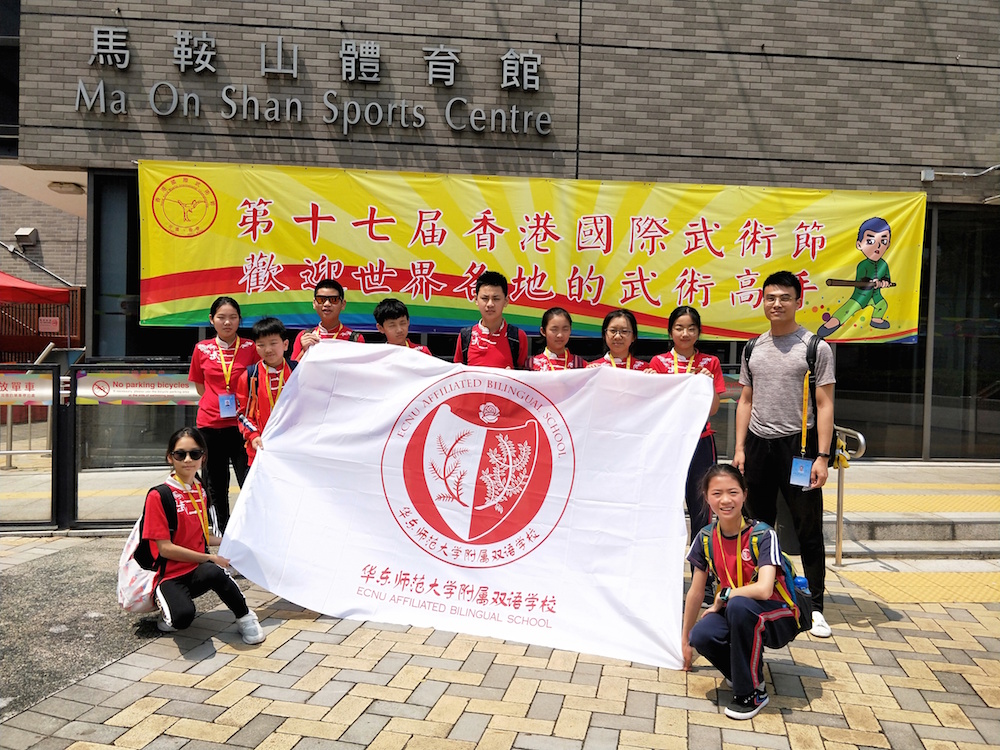 由于本次比赛是同学们第一次参加国际性大赛,我们的带队老师决定亲自上场比赛给孩子们树立榜样和信心。在李超老师取得了本次赛事的首枚金牌后,学生们也不甘示弱,在他们长期的坚持和努力下,本次比赛取得四枚金牌、两枚银牌、一枚铜牌,十项前六名的好成绩。与此同时本次比赛我校老师李超,学生金奕晗被组委会提名评选为优秀教练员和杰出运动员,并由组委会邀请的香港动作影星钱小豪作为嘉宾颁奖为他们颁奖。
Because this is the first time for students to participate in an international competition, our coach decided to take part in the competition in person to set an example and confidence for the children. After the teacher Li Chao won the first gold medal in this competition, the students were not to be outdone. With their long-term persistence and efforts, they won four gold MEDALS, two silver MEDALS and one bronze MEDAL in this competition, ranking top six in ten events. Meanwhile, our teacher Li Chao and the student Jin Yihan were nominated as Excellent coaches and Outstanding athletes by the organizing committee, and Hong Kong action star Qian Xiaohao was invited by the organizing committee as the guest to present the awards.
为期五天四晚的赛程给学生带来了巨大的收获,让他们见识到了国内外不同的武术选手的风格和各式各样的武术器械,对他们以后的训练来说具有深远的意义。一场赛事的结束意味着新的一个赛事开始,我们华师双语武术队将会继续前行,为华师双语争光夺彩,取得更大的荣誉!
The 5-day and 4-night competition schedule has brought great harvest to the students, allowing them to see different styles of martial arts players and all kinds of martial arts equipments at home and abroad, which is of far-reaching significance for their future training. The end of a competition means the beginning of a new one, our martial arts team will continue to move forward, to achieve greater achievement for our school.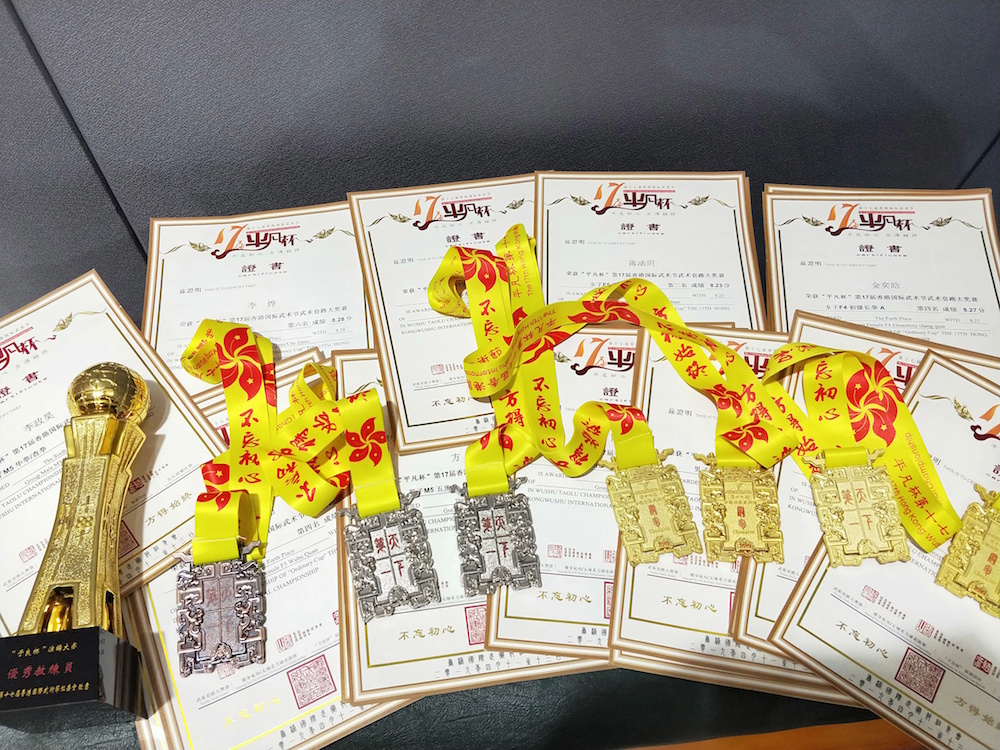 武术队取得的成绩激励着武术队员,同时也鼓舞着华师双语的全体师生们。武术队成功告诉我们,成功不是偶然的,在通往成功的路上我们要付出努力和艰辛,怀揣着信仰,我们努力前行,定将收获满满。
The achievement of the Martial Arts team encourages the players to keep on working and encourages the teachers and students. Their success tells us that success is not accidental, on the road to success we have to pay efforts and hardships, with faith, we strive forward, will be full of harvest.